I got my picture in the newsletter at work because we had a talent show in June 2000. I think I was playing Cripple Creek when the photo got snapped.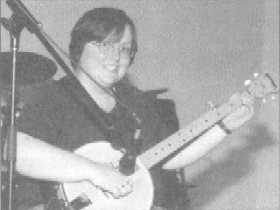 And now, I present you with a list of tunes I can play on the banjo. Actually play out of my head, like if you handed me a banjo I could play them for you. Which is why the list is so short. That, and I only started playing in May, 1999.

In G:

Skip to My Lou
Tanners Farm
Pig in a Pen
The Glendy Burke
Lazy John
Cripple Creek
God Rest Ye Merry Gentlemen (tune the high G to Eflat. I think.)
Auld Lang Syne


In G modal:

Shady Grove
Cluck Old Hen

In Double C:

Walk Old Shoe
Needle Case

In a further musical outbreak, I am also learning the fiddle. Below is photographic evidence of that fact; the bass was following my Arkansas Traveller rendition.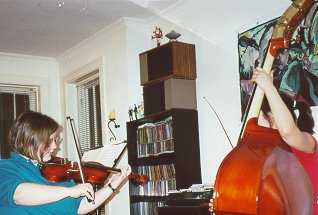 Here's how it's going so far, with the standard disclaimer that I started in January 2000. An interesting tidbit about this list is that it is also an index of the microcassette of my classes, that's what the numbers are. Also, I'm currently trying to pay attention to what key things are in, and have determined that those with numbers are all in D except where noted.

Side 1

000 Oh, Susannah
018 D scale
030 Twinkle, Twinkle (ah, a timeless classic)
044 Boil Them Cabbage Down
189 Tell Me Ma
202 Go Tell Aunt Rhody
241 Maura's Wedding in G
Mississippi River (not on the tape, learned off Volo album)
266 Boogie Woogie pattern
275 Black Eyed Susie
295 Soldier's Joy (the Paul Tyler way)


Side 2

000 Arkansas Traveller (a.k.a I'm squishing up my baby bumble bee!)
049 Dawning of the Day
085 Walk Old Shoe (note that by learning this I can now play with myself. So to speak.)
129 Bach Minuet in G parts for quartet on piano
(the tape inexplicably goes from 2.4 speed to 1.2 in here)
185 Liverpool Hornpipe
207 Indian Nation (in G)
(and back to 2.4)
221 Needlecase (another duet with self candidate)
(all tape numbers above this point became approximations due to the fact that I got a new cassettte recorder after dropping the old one one time too many.)
231 Liza Jane (I have banjo tab for this but alas cannot say I really learned it)
275 Soldier's Joy (the Walter Hojka way)
291 Saturday Night Breakdown (In C, maybe?)
313 Brown Eyed Rabbit (In A Something. mixolydian?)


Side 3

000 Cold and Frosty Morning (a minor)
089 Breakin' Up Christmas (in A)
113 Cold and Frosty Morning again
164 Old Joe Clark (A something)


Side 4

(out of sequence. Covers 1/10/01-2/21/01)
000 ??? from 1st week of Old Time Ensemble
013 Kingdom Coming
027 Last of Harris (fast and slower)
069 Old Joe Clark (slightly different version)
122 Allen Brothers Rag(?)
134 Sugar Hill (fast and slower)
180 Shoo Fly (Jordan playing banjo)
188 Sugar Hill (Jordan again)
203 Possibly Gill Saw???
242 Appley Something Or Other Maybe???
(Obviously I need to write these down sooner)
267 Speckle Top Shoes
302 ??? I have no idea
318 Speckle Top Shoes again



Side 5

000 Cluck Old Hen (a minor. I think. another duo for me)
043 Redhaired Boy (A mixolydian)
086 Kitchen Girl (A mix *and* minor!)
137 Mississippi Sawyer
180 Liberty
216 Soldier's Joy (the Walter way, reprise!)
248 Frog in a Well
263 St. Anne's Reel
273 Forked Deer
305 Rush and the Pepper



Side 6

000 The Possum's Tail is Bare
046 Stringblade rehearsal 8/3/00 (our extremely amateur quartet)
086 Typical Schottische
136 Avalon Quickstep
177 Bumblebee in a Jug
204 Rye Straw (the Illinois version)
263 Lake Charles Hop
294 My Cape Breton Home Waltz
(the tape again goes from 2.4 speed to 1.2 in here)
316 Waynesboro



Side 7

000 The Old Blind Sow She Stole the Midlands (in G)
(and back to 2.4)
032 Hogskin (Crooked and in C)
085 Rockingham Cindy (in G)
096 Woody's Rag from a mando tape
121 Been to Alabama
152 Um, Something???
194 Shoulda Stayed in the Wagon Yard
267 Something else???
290 Cold Frosty Morning (Jennifer Jeffries)
295 Once again, Something???
308 Allen Brothers Rag



Side 8

000 ???
040 Little Dutch Girl
105 I'm S.A.V.E.D.


Side 9

000 Three On a Hill
040 Buzzard's Roost from CD
065 Buzzard's Roost live
097 My Home In Tennessee



Side, um, X

000 Flowers of Edinburgh G (also banjo version)
069 Frog/Possum in a Well D (banjo slow)
106 Tunes from that time in the dunes
206 East Tennessee Blues C
220 Whiskey Before Breakfast
242 West Fork Girls
265 Over the Waterfall
283 Ragtime Annie



Hey, let's have a naming scheme: Year/Month/Side. 02/08 Side 1:

000 Santa Anna's Retreat
044 Rock the Cradle Joe
082 St. Paul
110 Matawa
160 Reel St. Etienne or Tibou ?
182 Banjo tunes for piano practice
347 Matawa fast
363 variation slow
366 Shoes and stockings, slow and fast



02/10 side 5:

000 Katydid (C fast)
030 Katydid slow

HOME
HOME

See the poster for the Old Time Ensemble's 12/13/00 graduation.

And also the poster for the 4/18/01 graduation.

Yet another promotion for Old Timey graduation 6/13/01.
ELSEWHERE

The Old Town School of Folk Music
is where I was introduced to banjo and fiddle playing.